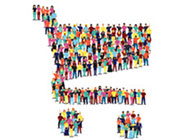 Welcome Buyers
We are pleased to provide state-of-the art training for a state-of-the-art system. eVA training follows a blended learning approach known as "Learning as a Journey", which offers different types of learning materials through multiple methods, such as eLearning, Quick Guides, Virtual Instructor-Led Learning, Videos, and Guided Practice. Learning journeys give users the information they need to succeed using eVA in their daily jobs.
We appreciate all the feedback we received about the previous DPS-led VILT process. As a result, we have created an updated process that is more streamlined.
If your entity does not have a dedicated, authorized trainer, please follow these instructions to register for a VILT session.
1. After you have completed all the self-paced training in your learning journey, you will have the option to enroll in the VILT session(s) that
correspond with your learning journey. Click on the Enroll button next to the VILT session.


2. This will bring up the page with the session(s) listed. Click on the Enroll button listed under the session you wish to attend.


3. You will receive an e-mail confirming your enrollment with information about joining the session.


Please be advised that DPS-led VILT sessions are currently only for those without an authorized trainer at their entity.


If you have an authorized trainer at your entity, please follow the directions here.


If you are not sure if your entity has a trainer(s) then please refer to the Trainers List on the Supporting Documents tab.